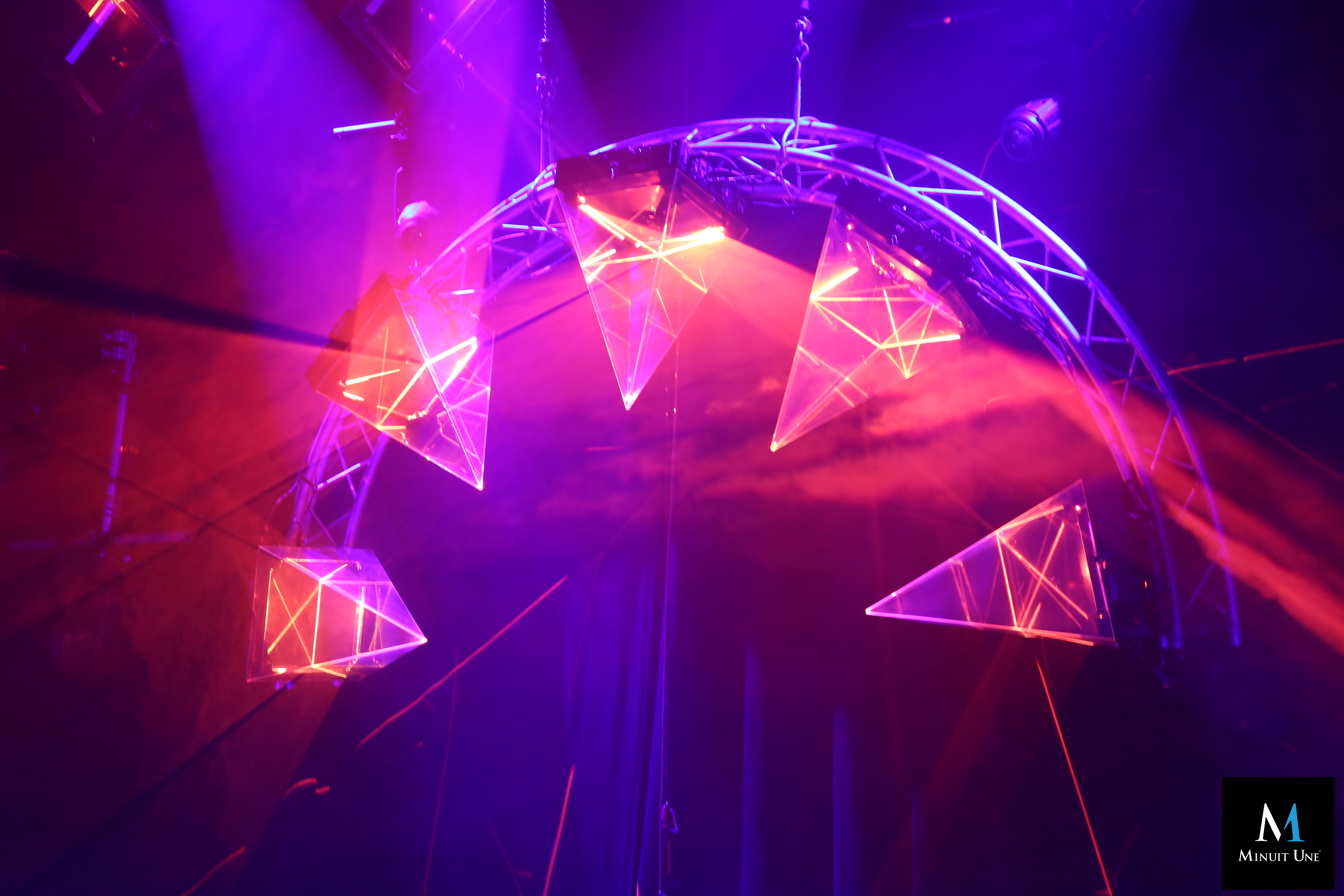 Minuit Une closed a 3 M€ fundraising with Bpifrance and Entrepreneur Venture
Minuit Une closed a 3 million euro fundraising with Fonds Ambition Numérique, managed by Bpifrance in the framework of Programme d'investissements d'avenir, and Entrepreneur Venture in order to establish itself on the international market of stage lighting
Paris, July 5th, 2017- Minuit Une has developed a new and innovative kind of scenographic lighting – IVL™ lighting (Immersive & Versatile Laser lighting) – which becomes a third type of light source after LEDs and lamps. After a year on the market, these "next generation" lighting fixtures have captivated the attention of national and international decision-makers on the different markets that Minuit Une is targeting (concert, event, broadcasting, clubbing) with over 100 units sold. In order to extend its range of innovative products – thanks to an ambitious R&D programme – and develop its international distribution network, Minuit Une is announcing the closing of a 3 million euro fundraising with Fonds Ambition Numérique, managed by Bpifrance in the framework of Programme d'investissements d'avenir, and Entrepreneur Venture.
A disruptive innovation supporting events and entertainment.
Minuit Une has developed a next generation, 360° lighting fixture that includes a patented exclusive technology. This IVL lighting technology is based on very specific laser, it is both immersive and versatile. It allows the laser source to become a new type of light: multimodal, safe and in accordance with professional standards.
An immediate interest from the market
After 3 years of R&D, Minuit Une began commercializing its first units at the start of 2016. It immediately attracted the interest of international stage designers.
Hence, Minuit Une was able to participate in the Weather Festival, Printemps de Bourges, Solidays
as well as more "corporate" events such as the LEADE.RS Paris conference organized by Loic Le Meur or even clubs (the Zouk at Singapore or the Lock at Budapest). Units are currently on tour with Philipp Poisel (Germany), Epica (Netherlands), Patricia Kaas, Møme, Pfel & Greem (C2C), Broken Back (France)…
The fundraising's objectives : To develop an international sales network…
During the first years of commercialization, Minuit Une has generated 40% of its turnover through export. Since the beginning of 2017, this percentage has already risen to 60%. Among a globalized market such as the entertainment equipment market, the company's objective is to, in time, generate 90% of its sales abroad, with 3 primary territories in mind: Europe, North America and South-East Asia.
…and develop its range of IVL™ lighting products thanks to a challenging R&D programme.
Based on a patented technology that has a high-potential for declension, Minuit Une is already preparing its next products.
Support its growth by hiring
Engineers, industrialization specialists, entertainment technicians, business developers… Minuit Une is implementing a recruitment plan to support its growth. The company hopes to hire 10 new collaborators by the end of 2017 and a total of 20 in 2018.
"We have been impressed by Minuit Une's creativity and capacity to deliver. Their product, breaking every code, has rapidly impressed the international market. With this funding, we wish to accompany them in their next step of commercial and industrial deployment, so they can become the leaders of innovation in the international market of stage lighting." explains Marouane Bahri, Entrepreneur Venture.
"The very dynamic and globalized entertainment market is, by nature, facing towards innovation since surprising the audience is the core of the profession. To see a Minuit Une product in motion can be sufficient to convince anyone of its creative potential. Specialists are agreeing: this innovation is opening up new horizons for every entertainment professional." adds Xavier Deleplace, Directeur d'investissement du Fonds Ambition Numérique, Bpifrance.
About Minuit Une
Thanks to the Institut d'Optique – the university from which the associates graduated with a double diploma in Engineering and Entrepreneurship – Minuit Une was able to patent its technology in 2013. The company then moved to the 104 Factory, a business incubator in Paris, to continue its development. Since 2016, Minuit Une has been based in the Atrium in Montreuil, under the control of Est Ensemble. Supported by Scientipôle and the BPI, Minuit Une benefits from the Young and Innovative Company status. Its products are designed and manufactured in France.
minuitune.com
Facebook: facebook.com/minuitune
Twitter: @MinuitUneFr
About Fonds Ambition Numérique
The Fonds Ambition Numérique is an investment fund dedicated to start-up companies in the digital sector. It was launched by the government in the framework of Programme d'investissements d'avenir (PIA) endorsed by la Caisse des Dépôts and managed by Bpifrance Investissement.
This fund co-invests in start-up companies with a high-potential growth, that develop new digital technologies or services.
bpifrance.fr
Twitter: @Bpifrance @BpifrancePresse
About d'Entrepreneur Venture
Created in 2000, Entrepreneur Venture is an independent management company, certified by AMF (Financial Markets Authority) and AIFM, specialized in companies that are unlisted, owned and managed by its founders. It takes care of 3 FCPI, 4 FCPR and 27 Proximity Investment Funds, covering 12 French metropolitan regions with a total of more than 600 M€ of loans managed.
The founders of Entrepreneur Venture Gestion are entrepreneurs that have successfully encountered the different stages of a company's life: creation or recovery, sales or initial public offering. The team members have realized more than 140 investment operations as minority associates, most of those in innovation sectors (e-commerce, SaaS, IT, aeronautic industry, digital marketing, Adtech).
entrepreneurventure.com – Twitter: @EntVenture
Investors and participants :
Bpifrance : Xavier Deleplace, Clarisse Blandin
Entrepreneur Venture : Marouane Bahri, Pierre-Alexis de Vauplane, Théophile Basser
Legal advisors: Bpifrance & Entrepreneur Venture : Bersay & Associés (Yves Ardaillou)
Minuit Une advisors: Avolta Partners (Patrick Robin), Cabinet Degroux-Brugère (Augustin Fleytoux)
A few video links:
Download the press kit
Download a pack photo