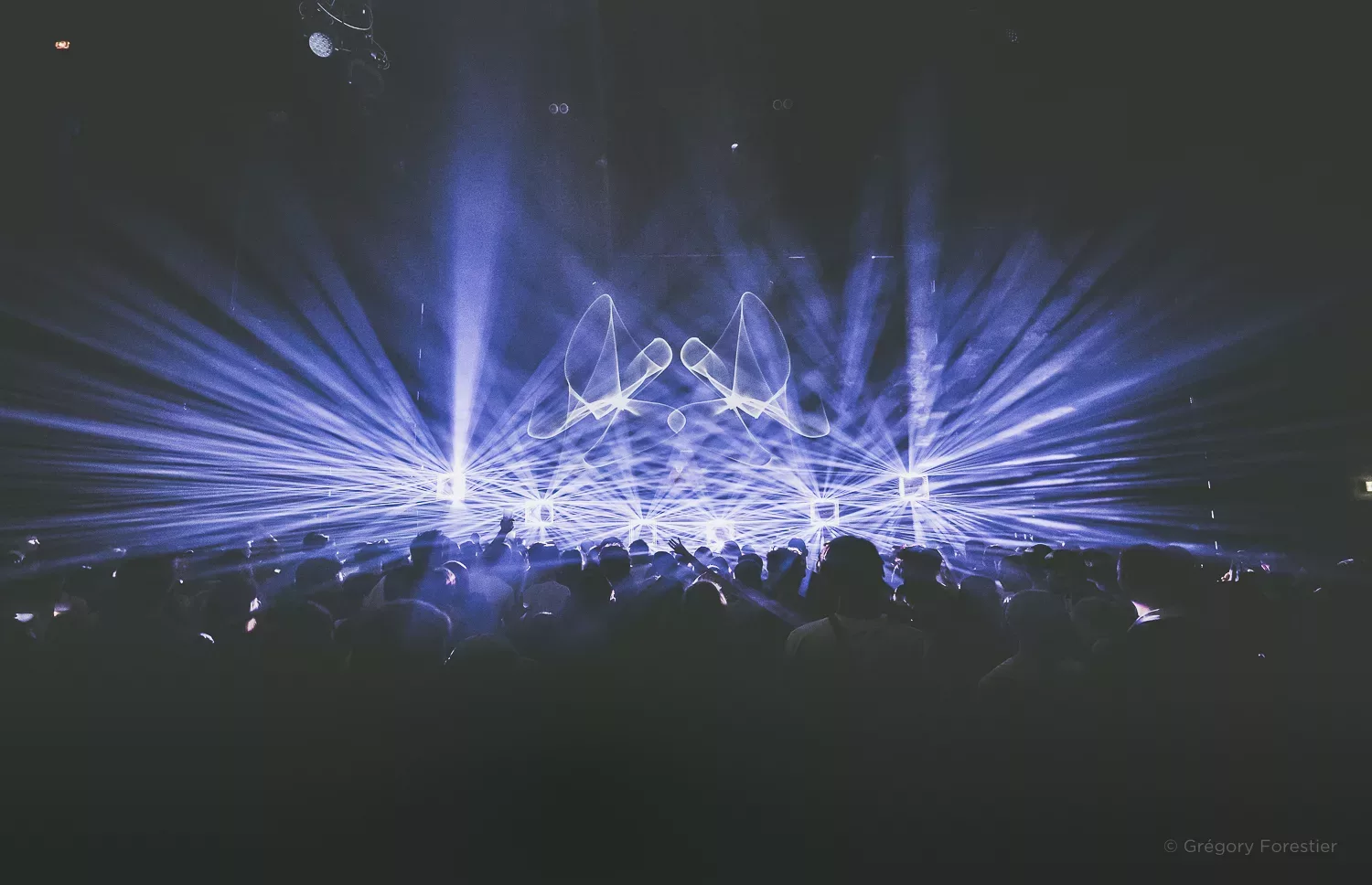 En Attendant Nordik
Maxime Marie, Stage Manager and Lighting Designer, Le Cargö, Caen:
"I first discovered IVL Lighting 3 years ago: I used 10 IVL Carrés at the Nordik Impakt #19 festival in Caen in 2017 where the whole artistic direction applauded the impressive visual impact.
This year, the 21st edition of the Nordik Impakt Festival couldn't take place. Instead, the Cargö organized two parties "En Attendant Nordik". In the main room, the focus is on video with the installation of a holographic tulle that covers almost the entire 12-meter aperture, positioned between the DJs and the audience. To not compromise the visual rendering, I did not integrate any projector at the back of the tulle, and I preferred to focus my light design on the dancefloor and used 18 Mega Pointes and 16 AuraXB to bathe spectators under a tsunami of light, given that the dancefloor was only 20m wide by 10m deep plus 200-seat bleachers.
To create a link between the stage and the dancefloor I chose to put 6 IVL Carrés just in front of the tulle and on 3 levels to integrate them in the range of the video. This way we could immerse the audience in the light. In other words, we positioned the tulle according to the IVL, and with this kind of setup, I knew that I would not pollute the surface of the tulle. This configuration revealed to be efficient as both the video and the light suited each other well and the result was very appealing.
The Club was not left behind, with a ceiling already well equipped, I wanted to integrate a powerful background so I chose to put up 4 totems of 3m high with 12 Pointes, 8 Par Led Rush2 and 4 IVL Carrés, all equally set for a 6 meters opening.
In summary, 10 IVL for two stages, the objective was to cover a maximum of space without overflowing the video background, the IVL was for me the best solution and allowed me to integrate it as a living architectural element.
Very positive overview from these two days: the Remote Training sessions helped a lot our technicians to encode the shows and the visual rendering of IVL was perfect.
I would definitely do it again!! "
Lighting operators: Adrien Hoareau (main stage) and Jean-Michel Spanier (le club).