Carrés, make the show,
free of heavy logistics!
IVL Carré at a glance:
→ Deep perspectives
→ Endless possibilities
→ Unique immersive experiences
→ Free of heavy logistics
→ Intuitive and simple DMX control
Where to find?
IVL Carrés are multi-directional, immersive, wide-covering area fixtures, to make the show in mid-size venues, free of heavy logistics.
Each IVL Carré is covering a wide area by producing 4 directive light plans, one by each side of the square. Each plan is adjustable at a 180° angle to create stunning perspectives when combined together. The light plans of each IVL Carré can be cut into 1, 2, 4, 8, 16, 32 or 64 beams: welcome to a new world of infinite possibilities, from a single light source.
Programmable with any DMX console, the IVL Carrés are simple and intuitive to control, and will only require a few minutes to get your hands on.
In a time when audiences are more and more asking for experiences, IVL Carrés perspectives can help create truly immersive designs with their smooth enveloping textures and 3D rendering perception. With different operation modes, IVL Carrés perfectly fit any mid-size venue, from 1000 to 5000 people, and are an infinite playground for creativity.
With IVL Carrés, one flightcase already makes the show!
The IVL Solution
IVL products offer infinite lighting combinations, creating exponential experiences when combined together.
Easy to program, easy to install, without heavy logistics, IVL Lighting is the solution for everyone who wants to get more out of lighting in mid-sized venues.
With IVL, produce smarter spectacular lighting design offering:
More experience, more immersions, more emotions, more creative outputs
Less time to set up and dismantle, less weight to carry, less maintenance, less storage
A time and cost-effective solution, scalable to your needs.
The most effective solution to make the show in 1000 to 5000 people venues.
1 flightcase – 6 IVL Carrés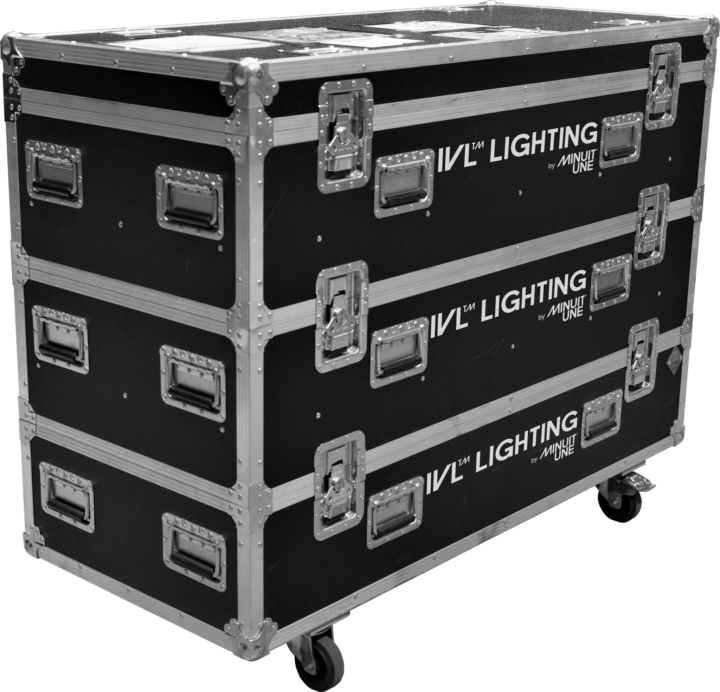 The most effective solution to make the show in 1000 to 5000 people venues.
1 flightcase – 6 IVL Carrés
IVL Lighting - Make the show