Carrés, make the show,
free of heavy logistics!
IVL Carré at a glance:
→ Deep perspectives
→ Endless possibilities
→ Unique immersive experiences
→ Free of heavy logistics
→ Intuitive and simple DMX control
Where to find?
IVL Carrés are multi-directional, immersive, wide-covering area fixtures, to make the show in mid-size venues, free of heavy logistics.
Each IVL Carré is covering a wide area by producing 4 directive light plans, one by each side of the square. Each plan is adjustable at a 180° angle to create stunning perspectives when combined together. The light plans of each IVL Carré can be cut into 1, 2, 4, 8, 16, 32 or 64 beams: welcome to a new world of infinite possibilities, from a single light source.
Programmable with any DMX console, the IVL Carrés are simple and intuitive to control, and will only require a few minutes to get your hands on.
In a time when audiences are more and more asking for experiences, IVL Carrés perspectives can help create truly immersive designs with their smooth enveloping textures and 3D rendering perception. With different operation modes, IVL Carrés perfectly fit any mid-size venue, from 1000 to 5000 people, and are an infinite playground for creativity.
With IVL Carrés, one flightcase already makes the show!
The IVL Solution
IVL products offer infinite lighting combinations, creating exponential experiences when combined together.
Easy to program, easy to install, without heavy logistics, IVL Lighting is the solution for everyone who wants to get more out of lighting in mid-sized venues.
With IVL, produce smarter spectacular lighting design offering:
More experience, more immersions, more emotions, more creative outputs
Less time to set up and dismantle, less weight to carry, less maintenance, less storage
A time and cost-effective solution, scalable to your needs.
The most effective solution to make the show in 1000 to 5000 people venues.
1 flightcase – 6 IVL Carrés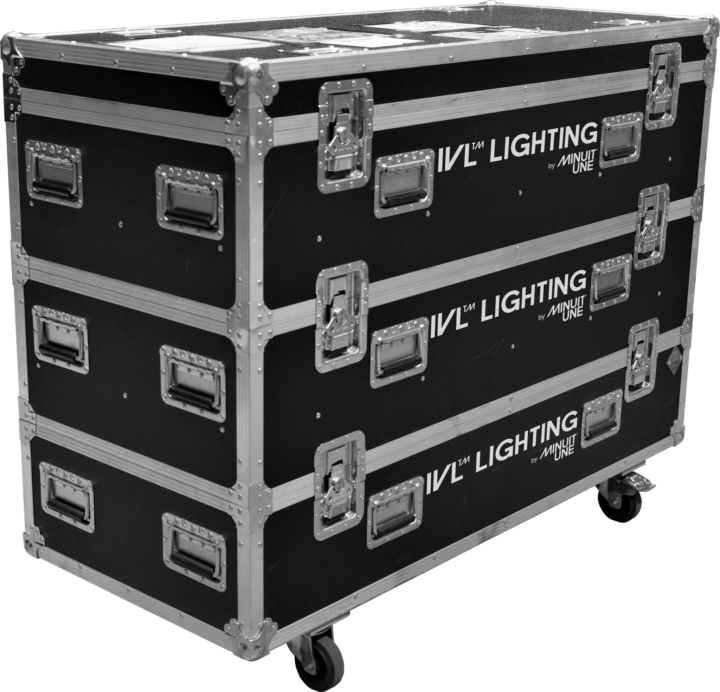 The most effective solution to make the show in 1000 to 5000 people venues.
1 flightcase – 6 IVL Carrés
IVL Lighting - Make the show
IVL Carrés Full Description
Results
Deep perspectives
4 independent tilts producing 4 light
plans (16-bit control)
Motorized by 50 000-step motors
Smooth movement at very low speed or cut change positions
Infinite tilt movements and position combinations
Easily adaptable position presets
Endless possibilities
2 modes: a directive light or a wash light, for each tilt
2 shapes of cover to choose from (square or pyramid)
1, 2, 4, 8, 16, 32 or 64 beam mode from one single source
Infinite color combinations in mode 2
Attachable in any position
Immersive experiences
Calibrated output for immersion
Directive light plans
Smooth RGB textures
Wide covering area
3D rendering lighting shapes
Use
A simple and hands on solution
Light-weight (16kg), robust conception, ready to travel
125W consumption
25 channels in mode 1
Regular tilts and gobo-like channels
Intuitive programming on any DMX console
Compliant with every standard
Cost efficient solution
Versatile indoor applications
Concert, touring, TV show, corporate event, fashion show, conference, video clip
For all styles: rock, pop, jazz, electro, hip-hop, classical…
A patented technology
The first laser illuminated lamp
Compliant with every standard
No laser expertise required
A safety distance of only a few meters
Know more about safety & compliance
Request a training session to get the most of IVL
IVL Carrés Effects
The super fast scanning system of the IVL Lighting range (333Hz frequency rate) allows the human eye to see every single nuance of colour.
A vibrant and smooth RGB colour spectrum to perfectly complete the best LED's and HALOGEN's chromatic range, with vivid colour combinations as well as a wide range of pastel colours.
4 brushless step to step motors independently control the 4 separate side mirrors to achieve unlimited immersive positions.
Smooth movements with a 1% range can be reached due to a specific electronically augmented resolution driver.
Each mirror has a 0° to 360° angle to create an infinity of immersive, decorative and wash effects.
Reset function by optical sensors.
The light plan can be divided into 1, 2, 4, 8, 16, 32 or 64 controllable beams thanks to an intelligent electronic software synchronised with the scanning system frequency rate.
These specifications are converted via DMX consoles as an intuitive gobo system with the following equivalence:
Gobo type: number of beams
Gobo size: width of the beam
Gobo indexation: position of the beam on the mirrors
Gobo rotation: speed and direction of rotation.
The covers are in PMMA, a material that lets the light go through while creating visible lines of light on the pyramid or square shape, to play with both the immersive and decorative effect of the IVL Lighting.
The projection lines created by the 4 plans can enhance any venue architecture by combining lighting, decoration and mapping in a stunning and unique way.
The directivity of the IVL light covers any large indoor area with advanced shapes. The right level of haze will help materialize the effects and create a truly amazing experience.
The aperture angle of each mirror is 180°, allowing the 3D rendering perspectives to have no size limit.
Technical Specifications
Weight: IVL Pyramide: 19 kgs – IVL Carré: 16 kgs
Size: IVL Pyramide: 594x552x884mm - IVL Carré: 594x591x113mm

Class 3B laser product - Extremely short NOHD
Power embedded: 10W
Colour - Smooth RGB spectrum
2400mW @ 638nm | >2000mW @ 520nm | > 5600mW @ 450nm
4 light plane: 360°
Beam range: 1 to 80°
Frost effect: Diffuse smooth light


Housing: Aluminum body, black matt
Plastic cover: PMMA
Protection rating: IP20
Transportation: Two side handle

Scanning motor: High life brushless DC motor
Constant scanning rate: 333Hz
Mirror: R>98%
Safeguard: No scanning fail

4 mirrors, one for each side, motorized by 4 brushless step to step motors (very long lifetime), operated by specifically developed drivers.
Angle: 0° to 360° on each mirror
16-bit DMX channel control
Optical synchronisation, reset function for automatic repositioning

Electronic conception optimized to create electronic gobos
Specific Circuit board developed for a high stabilization of the gobos and accurate rotation of the gobos from very low speed to 4Hz.

Power supply unit: 100 to 240 Volts – 50/60Hz
Power: 125 Watt max


Cooling: Temperature-regulated
Safety: Protection against excessive temperatures

Mounting point: eight quarter-turn locking points allowing installation of Omega brackets in any orientation
4 M10 screw threads in each corner
Safety cable attachment point

AC power input/output: Neutrik PowerCon True1
DMX data in/out: 5-pin locking XLR

Safety:
(Directive No : 2014/35/UE)
IEC 60825-1:2014 (EN 60825-1:20154)
IEC 60825-3:2008 (EN 60825-3:208)
IEC 60065:2014 (EN 60065:2014)
EN 62311 : 2008

EMC:
(Directive No : 2014/30/UE)
EN 55103_1:2009/A1:2013
EN 62311 : 2008
EN 55103-2 : 2009

How to use? & Resources
Find tutorial videos and download fixtures and pre-programmed shows on our Community & Support page
IVL Lighting: 4 min explanation + Demo show N°2
MinuitUne's Network
IVL Carres are distributed internationally by a qualified network of partners.