Minuit Une's green deal is a double engagement for energy-efficiency:

→ through our corporate culture
→ through the solutions we develop
for light shows
Our internal resolutions:
At Minuit Une, looking for new solutions is in our DNA.
Responsible working methods

Minuit Une is committed to a continuous approach aiming at limiting the energy and environmental impact of its activity. As other lighting manufacturers, Minuit Une works with a network of partners and customers worldwide.
Transportation represents 30% of the world's total power consumption. Minuit Une pays attention to the elimination of non-essential transportation.
Since July 2019, Minuit Une is the first stage lighting manufacturer offering a remote training service, the most immersive training service in the industry. By allowing its clients and users to get trained by taking control of the IVL Showroom remotely, from home, this service innovation allows a drastic decrease in the need for transport for its team, but also offers a high-quality service: no need to travel, everyone can access it from a computer, at the time of their choice.
Minuit Une is since in a constant development to act remotely by extending the reduction of transport and improvement of services to the sales and after-sales teams. The Minuit Une showroom is also fully equipped  to ensure the best understanding of our products through live stream online demos:
– multi-camera system
– Several moving heads for output comparison
– several DMX consoles to choose from.
Minuit Une is encouraging taking public transportation and car-sharing for its employees and favoring home office as much as possible. Minuit Une is convinced that working from home is a tool to reduce the use of transport, while improving the team's living conditions.
On the manufacturing side, Minuit Une chose to assemble its products in France, with a French partner who meets the highest qualitative standards. Our products are designed to be long-lasting, easy to repair, easy to recycle and with a lifespan well above the average in this industry. This way, Minuit Une made the choice to develop versatile products instead of accumulating references.
Finally, internally, we pay attention to waste management and eco-friendly choices.
A R&D philosophy of increasing light show efficiency
The heart of our expertise comes from a patent portfolio allowing the conception of wide-covering effects lighting fixtures.
All our products have a far greater coverage capacity from a single source than classic lighting fixtures, which allows the use of fewer units for the production of spectacular light shows, hence reduce the global energetic consumption.
Our solutions for efficient light shows
With Minuit Une, it is now possible to design light shows consuming five times less energy.
Our vision:
In a vast majority of lighting designs, most lighting fixtures  ( >70%) are not used to "light" strictly speaking. They are used to create effects: perspective, immersion, surprise…
Most fixtures being monodirectional, plenty of fixtures is usually required. .
This leads to a significant level of logistics, weight and power consumption. A design for a 1000-people concert can easily use up to 100kW. In a 10-hour show, it is as high as the annual consumption of a person in lighting and household appliances.*
Our belief: the light shows also have to operate changes. We ought to be more creative and to always look for new and more efficient ways of working, at all levels of the chain.
Energy efficiency requires new ways of being creative.
Our solutions:
Minuit Une provides ground-breaking solutions to already make a great light show with very low logistics and energy consumption in mid-sized venues. 
All our products, named IVL Lighting by Minuit Une,  have a far greater coverage and effects capacity from a single source than classic lighting fixtures: the experience brought by a single Minuit Une product remains unrivaled. It allows the use of fewer units for the production of spectacular light shows, hence reduce the global energetic consumption.
A lighting design based on Minuit Une lighting products allows:
less fixtures
less energy consumption
less logistics
less weight and volume to carry
Picture: 6 IVL products covering the full stage – 750 W consumption only;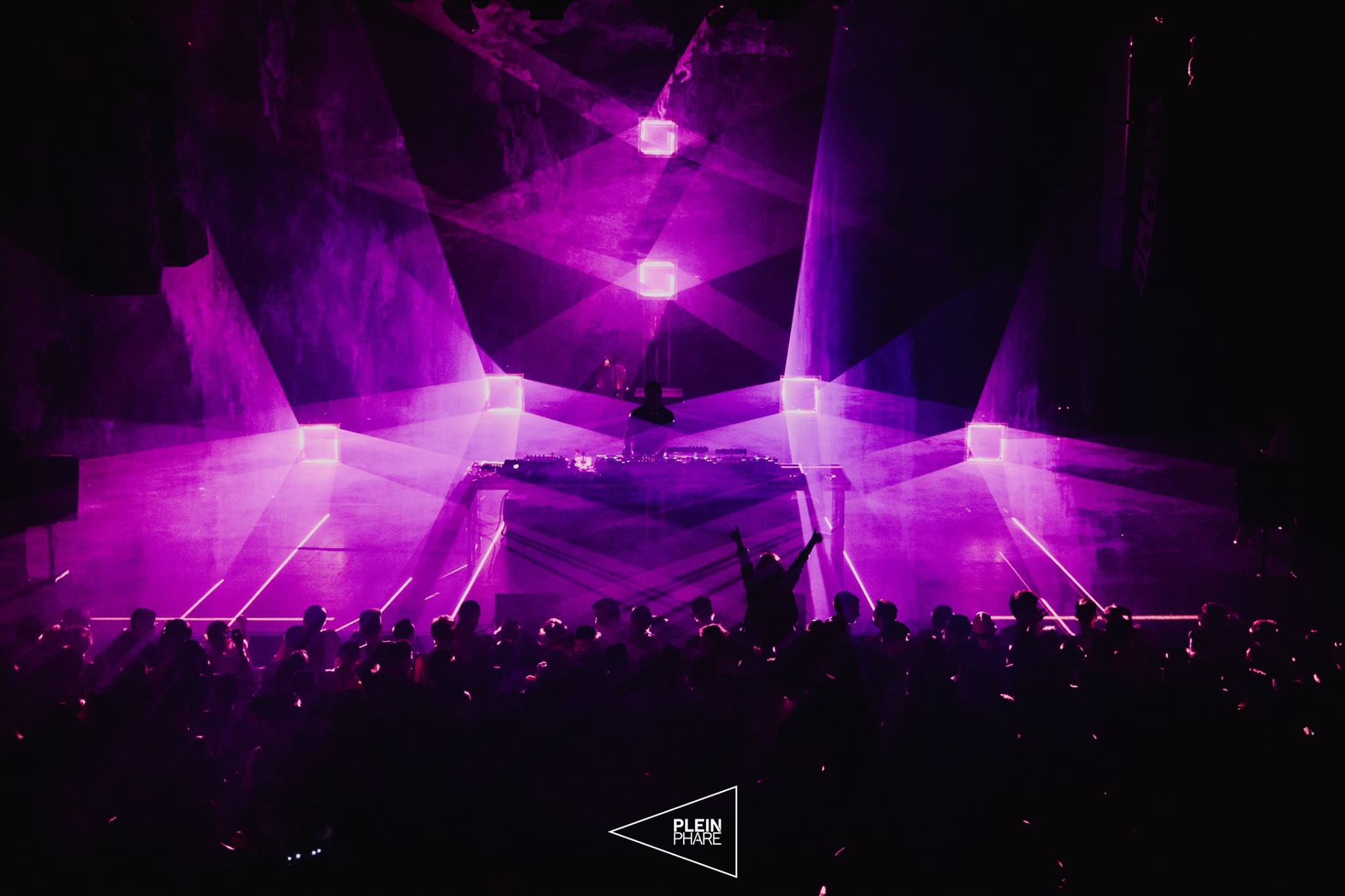 Case study : a matrix of lighting fixtures is a very common lighting design. Let's compare a matrix of IVL and a matrix of LEDs fixture, both calibrated for 1000-2000 people venues.
A matrix of multi-directionnal IVL fixtures

9 IVL Square
Consumption: 9x100W = 900W
Total fixtures weight: 135kg
Number of flightcase : 2
Decorative: yes
Wash mode: yes

A matrix of monodirectional beams LEDs  fixtures

24 Leds luminaires:
Consumption:  >6,6KW
Total fixtures weight : >400kg.
Number of flight cases : 6
Decorative: no
Wash mode: no
With Minuit Une, saving energy and logistics goes with endless creative possibilities.
As an illustration, here is a portfolio of the extreme versatility in using a matrix of 9 IVL products. Each pictures has been programmed by a different lighting designer through our remote training programms.