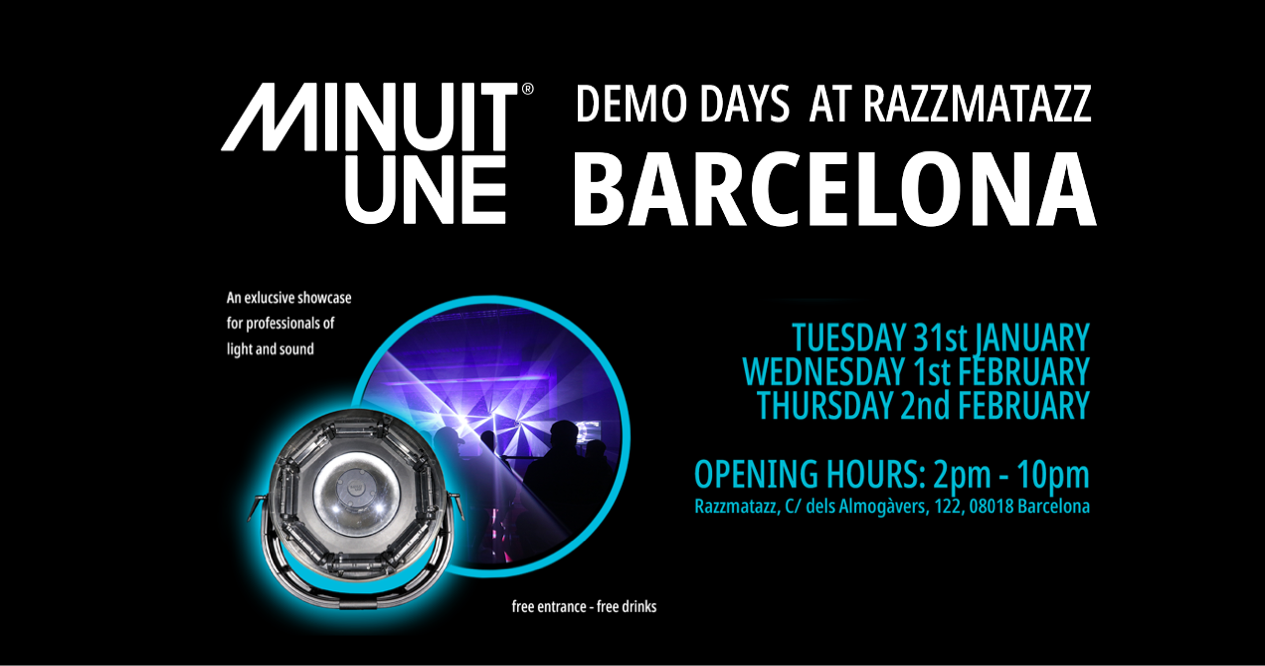 Demo Days at Razzmatazz, Barcelona
(Spanish below) Going to Barcelona?
Experience Minuit Une's IVL PHOTON!
> 3 demo days at Razzmatazz, located in Barcelona center, 5 min from the beach!
The ideal conditions for professionals to experience the IVL Photon and get to truly know everything about its technology, outcomes, and applications. Come grab a drink in an iconic location of Barcelona's music scene: the Razzmatazz  (located right in the center of Barcelona).
Tuesday 31st January
Wednesday 1st February
Thursday 2nd of February
Opening hours: 2pm – 10pm
For light & sound professionals only
Free Entrance – free drinks
Facebook event: 
Link: https://fb.me/e/3gLePbiyv
———————————————————
Ir a barcelona?
Descubre IVL PHOTON by Minuit Une!
> 3 demo días a Razzmattazz, en el centro de Barcelona, 5 minutos de la playa.
Las condiciones ideales para que los profesionales vivan de una forma única IVL Photon y conozcan todo sobre su tecnología, sus emisiones de luz y sus aplicaciones. Disfruta de un trago en una locación icónica de la escena musical en Barcelona: el Razzmatazz ! (localizado en el centro de Barcelona).
Martes 31 de enero
Miércoles 1 de febrero
Jueves 2 de febrero
Horarios de apertura: 2 pm a 10 pm
solo para profesionales
Bebidas gratis – barra abierta
---
Need more informations?
– our Spanish distributor and partner of those demo days, VCI,  will be at the ISE exhibition, booth Number 7F42: they will be more than happy to help you.
– you can contact us at any moment but using the following form, and contact us directly by email or phone call (see contact information below)
Let us know when you arrive !
Your personal contact /Tu contacto personal: 
Denise Dominguez
[email protected]
Sales & Support
Mobile:+ 33 6 14 33 73 91
Location/Ubicación: 
Invitation / Invitación: